Since

Jan 20, 2010
Messages

28,141
DOCTOR MMA GET OVER HERE!! IM HEMORRHAGING BASKETBALL MONEY!! GET OVER HERE NOW GOD DAMMIT!!
That would describe my month if it were a tacky drama on network television. Unfortunately, this is not television, and I really have been hemorrhaging money on useless basketball games. No more. Daddys home, and he brought a gold-plated tourniquet. There will be mixed martial arts action taking place on three of the next four weekends. And that off weekend in between? Ill be leaving the house that weekend. Enough of the nonsense!
On Saturday night Strikeforce: Miami will air live on Showtime. There are several notable fights taking place, including: Cristiane Santos (-610) vs. Marloes Coenen (+455), Melvin Manhoef (-190) vs. Robbie Lawler (+165) and Herschel Walker (-350) vs. Greg Nagy (+290). Yes,
that
Herschel Walker. Im as of yet undecided on these, but there are three other fights that I have given some thought to.
Nick Diaz -270
Marius Zaromskis +230
The Diaz brothers loom around every corner that I turn. Did you hear the one about me being 0-9 in any fight involving Nate Diaz? Would be funny if it was a joke. I have a little better luck predicting big brother Nicks (20-7) outcomes. And Im looking for paydirt.
Diaz has been victorious in five straight bouts, most recently taking out Frank Shamrock and Scott Smith. A brilliant product of the Gracie Brazilian Jiu-Jitsu camp, Diaz poses a difficult opponent for many guys with his unorthodox style. Sure he is fun to root against because hes such a jackass, but you have to give credit where it is due.
Marius Zaromskis (13-3) is a Lithuanian fighter who has been racking up victories in DREAM. Very few people will have heard of him once he faces off with Diaz, and I believe that the odds are overblown to reflect this. Zaromskis likes to throw crazy knees and head kicks, and this could neutralize Diazs striking. Im going with the upset here. Besides, Diaz in Miami during Super Bowl festivities if he doesnt get arrested before the fight, he will definitely be hungover. Im taking a shot.
Bobby Lashley -1475
Wes Sims +800
Wow isnt that something? -1475. Im not sure Ive seen a guy that high for an MMA fight. Strikeforce is hoping that they have the second coming of Brock Lesnar in Lashley (4-0). A giant brute of a man, this ex-professional wrestler has breezed through the competition in his fledgling career. For various reasons, his opponents for this matchup were scratched twice. Enter Option C - Wes Sims (22-12-1).
Sims has been around for a long time, and UFC fans will recognize him from his recent stint on the latest installment of The Ultimate Fighter. Turns out he was much better at telling jokes than he was in the Octagon, as he was bounced in the first round of fights by Justin Wren. He should be an easy sacrifial lamb to usher in the Lashley era at Strikeforce. BUT.
I mean, Sims has tons of experience. Hes thrown down with guys like Frank Mir and Tim Sylvia. He has to have a punchers chance here, right? Right?! Aw hell, its worth throwing down a bit of lettuce on him. If this doesnt come in, I dont even want to hear it. Im not throwing out a lock on a +800 goofball underdog. Im just saying. Why not?
Oh no I diint!​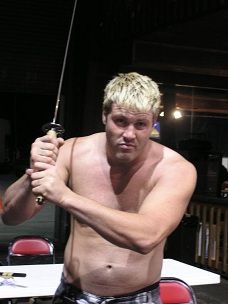 Jay Hieron -320
Joe Riggs +260
So one decent-sized dog and one ridiculously no-chance-in-hell colossal dog so far. The tomfoolery ends there. Jay Hieron (18-4) is, simply put, a cut above Joe Riggs (32-11-0, 1 NC). Im looking for a win and Im looking for it to arrive in a manner that requires no sweating on my part.
The last time most of us saw Riggs, he was whuppin up on perennial loudmouth Phil Baroni like it was his job. He snuck in a couple more fights since then that nobody has ever heard of, winning both. Riggs is a good guy to have in your stable, for sure. Youre just not ever going to allow him to sire your mares is all Im saying.
The talented Hieron will not be stopped on this night. If he can deliver the 1st round finish that Im banking on, we can both make the South Beach Super Bowl parties on time. That reminds me, I wonder what the Heat line is
Jay Hieron​