Joined

Jan 26, 2010
Messages

44,285
The unit next to ours is occupied by a woman in her mid-40's. She likes to yell, and I mean yell as though she was having the argument of a lifetime with a loved one. No one ever yells back, so we thought, maybe she's a in rocky phone relationship with someone.

We're witnesses to her yelling ritual 2 or 3 times a week.
One night, three cops were standing in front of her unit. I didn't ask what they were doing there, I just assumed it had to do with a noise complaint from another neighbour. Didn't think much of it.
Then last night, I was downstairs in my storage locker, and I noticed that stuff in the adjacent locker was neatly tagged with the owner's name and full address. As it turns out, it is my crazy neighbour's stuff.
I googled her name and found her LinkedIn. She claims to be a marketing professional, but I don't believe she goes to work during the day. It seems obvious that she neglected to update her profile when she left her last job. It happens.
Then I found her Facebook page. Her wall is public. Her most recent posts are a bit weird and self-indignant, but par for the course for the average Vaguebooker:

Okay, she's been through some tough shit and was probably inebriated when she decided that that was Facebook material. We've all been there. Let's keep going:

Sounds reasonable to me. *nods slowly* Moving on:

Wait, what.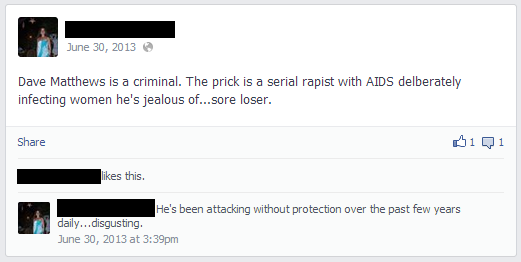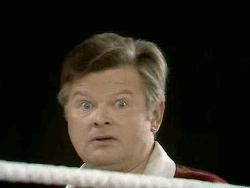 Note that she self-liked her post and then followed up on it.
Oh dear. Crazy man-hating pretend lesbian. So she's prolly been badly abused at some point in her life. I'm weirded out but I still feel for her. Let's see what's next: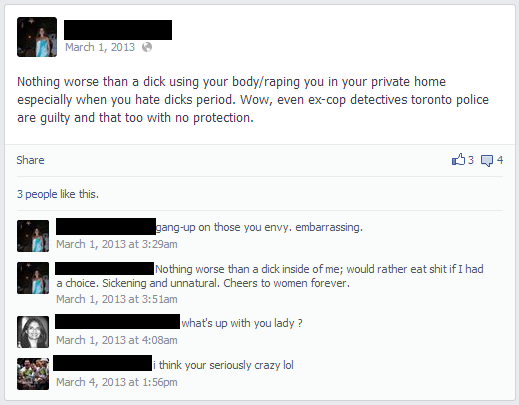 I reckon we should set her up with poster madmaxx.